Tummy Tuck (Abdominoplasty)
Tummy Tuck (Abdominoplasty) in birmingham
Commonly known as Tummy –Tuck involves removal of loose abdominal skin and fat and tightening of the tummy muscles. They are two types full and partial or mini Tummy tucks. The procedure involves an incision near the pubic hairline that runs across from hip to hip. After removal of the loose skin / fat and tightening of the muscle, the skin is pulled back and sutured in place and a new hole is created for the belly button.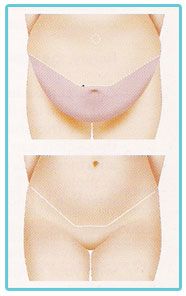 Operation is done under general anaesthetic and takes about two to three hours. Two drains are left in the tummy to allow draining of any collection. You will have two pillows under your knee to support the tight tummy.
Liposuction is sometimes used as an adjunct to this procedure or as an alternative.
It is a major operative procedure and would uncomfortable but pain is controlled with pain killers immediately post surgery.
Occasionally collection of blood (Haematoma), body fluid (Seroma) can build up under the skin and may need to return to operating theatre to remove it.
Scars heal well and take about year to year and half to become pale. They can remain red, lumpy, and sensitive and this is usually temporary but can be permanent. Rarely tummy button can be off centre. Other complication of general anaesthetic includes Blood clots in the leg, chest and throat infection and pulmonary embolism. These risks and complications will be highlighted again at time of consultation and again at consenting prior to surgery.
Postoperative Advice, Instructions & Final Result
Day 1 – 3
You will be wearing a pressure (vest) garment that will be uncomfortable. The around the tummy may cause discomfort while getting up from the bed and during walking. You must continue to walk to prevent risks of forming clots in the legs.
Day 4 – 7
Continue with your pain killers and increase your level of activity. Support your tummy with pillows or both hands when you wish to cough.
Week 1 – 10 days
Should be able to stand straight with little discomfort.
Week 3
May be able to normal daily activities but no lifting.
Week 4
May be able to return to work if it doesn't involve heavy work. Can resume driving if able to wear seat belt with comfort.
Week 6 – 8
Gradually begin lifting heavy objects and could start strenuous exercise including swimming.
Month 6
Improvement of loss of sensation over the lower abdomen, scars soften and begin to fade.
Month 12
Scars flatten, soften and fade and you can expect to see the final result.