A facelift, medically known as rhytidectomy, is a cosmetic surgery procedure that restores the normal look of the face from the effects of ageing.
As men and women age, the face experiences many changes in appearance, some more noticeable than others. However, these changes can cause feelings of distress and anxiety amongst other things.
The classic signs of ageing can sometimes be difficult to deal with and many women in Birmingham are turning to facelift surgery to restore their youthful look.
Ageing is one of the primary reasons why people choose to have a cosmetic facelift, especially due to the lines in the forehead deepening, wrinkles appearing along the corners of the eyes and mouth and lips becoming thin with noticeable lines.
In addition, in some cases of ageing, the cheeks droop with sagging of the jaw skin (jowls), folds develop between the nose and cheek that deepens on either side and the neck skin tends to sag and form folds. Often these additional symptoms can be treated with a combined facelift / neck-lift procedure.
Furthermore, ageing can often be accompanied with drooping of the eyebrow and / or the eyelids, which may require additional procedures.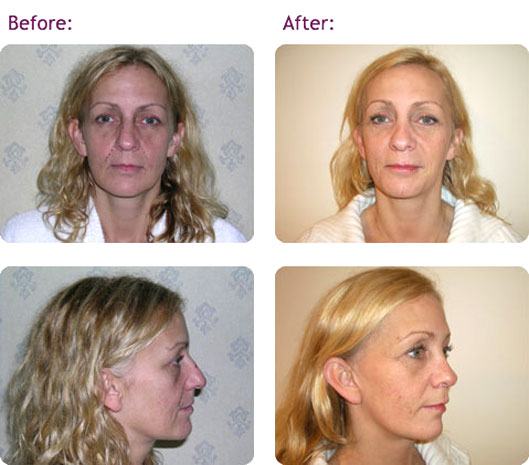 Facelift at Birmingham Beauty Clinic
At Birmingham Beauty Clinic, thorough consultation and assessment allows us to discuss your aesthetic needs and goals in detail and bring about a solution that provides you with the most effective facelift treatment. We understand that every patient that we see is different with their own individual goals of what they want to achieve from surgery. That is why we treat each and every patient with the same level of personable care and attention to detail, whilst providing honest and genuine advice so that results and goals are realistic.
The facelift procedure depends on the areas of the face that need to be corrected.
A standard facelift involves an incision made at the hairline at the temple, extending along the curvature of the ear on the front continuing to the back and horizontally back on the hairline.
A further incision is made under the chin if correction of drooping skin and muscle is required. Occasionally, your surgeon may use the fat (grafting) to correct some areas of the face.
Facelift surgery is performed under general anaesthetic and may be carried out simultaneously with other procedures, such as brow-lift or upper and lower eyelid correction (blepharoplasty).
A facelift typically takes between two to three hours to perform – although the duration of surgery may be longer if additional procedures are carried out.
Types Of Facelift Surgery at Birmingham Beauty Clinic
Facelift surgery can rejuvenate your face and bring about a more youthful appearance during a rested state. There are a number of different types of facelift available depending on your aesthetic goals, including:
– Lower Face Facelift
– Mid-Face Facelift
– Cheek and Neck Facelift
– Complete Facelift
– Facelift + Liposuction
– Non-Surgical Facelift
To know more about the facelift procedures that are available to both women and men in Birmingham, call us to arrange a no obligation consultation. We encourage people from all over the West Midlands to explore their cosmetic surgery options by asking as many questions as possible so that they get all of the information they need in order to make an informed decision about surgery.
As with all cosmetic procedures there are associated risks and side effects that you should be aware of before opting for any treatment. As this procedure is one that targets areas above the shoulders (neck/face), the majority of side effects will be in this region of the body.
Facelift side effects include:
– Swollen face that may be bruised and numb following surgery
– Collection of blood under the skin can happen immediately within couple of hours after surgery and may warrant removal in the operating theatre under general anaesthesic.
– Occasionally wounds have delayed healing, especially if they get infected. However, this is very rare.
– Temporary hair loss at the site of the incision is not uncommon.
– The risk of injury to the facial nerve is rare but if it occurs is temporary
– Weakness of some muscles of the face is common and you can expect them to recover in few weeks post surgery.
– General anaesthetic complication includes DVT, chest infection and pulmonary embolism.
Postoperative Advice and Instructions
Due to the intricate nature of facelift surgery, it is important to closely follow your personalised aftercare plan that you will be given before your procedure. If you live in Birmingham and travel to our state of the art Manchester hospital for surgery, it is advised that you make arrangements for a partner to accompany you on the day of your surgery and when returning home due to travelling time and recovery process.
Below is a general outline of guidance that you would expect after your facelift treatment. However, depending on the extent of your procedure, the advice may vary slightly.
– Immediate
You will have considerable swelling on the first 2–3 days after your facelift. Keep your head up and sleep upright. ice packs can be used to soothe the skin and help reduce any swelling. You may be required to wear facial support.
– After One Week
After your are discharged from hospital, you will be provided with a follow up appointment so that any non-dissolvable stitches can be removed. After around two weeks any staples used during surgery will also be removed.
You will be able to increase your activity levels but avoid anything too strenuous. Some patients return to work after one week providing they are in good health and feel as though their body is fit and ready. Jobs that are more physical or active may require more time off work.
– After One Month+
Swelling should have settled and any facial supports will no longer be needed. You can increase your activity and exercise levels.
Final Results
Final results of facelift surgery can be seen after six to nine months. Scars will soften, become pale and eventually fade.
Book Your Facelift Consultation Today at Birmingham Beauty Clinic
Call
0800 007 5860
to book your consultation today with our specialist facelift surgeon. Our staff have the knowledge and expertise to answer your facelift questions and allow you to make an information decision on whether or not facelift surgery is right for you.