Breast Uplift (Mastopexy)
Breast Uplift Surgery (Mastopexy) in birmingham
Mastopexy is a procedure that raises, uplifts and reshapes the breast giving a youthful appearance to the breasts. Surgery involves an incision that is made around the areola and extends downwards towards the lower end of the breast and looks like a 'key hole'. Sometimes further incision horizontally is added along the breast crease. Breast uplift does not add to the breast tissue but does change the overall shape and position of both nipple and the breast. Breast implants can be inserted to increase size and improve firmness.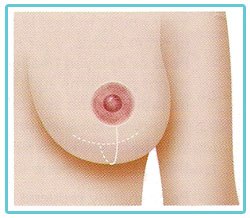 The surgery takes up to two hours and is performed under general anaesthesia.
Swelling of the breast after the procedure is common and last for few days. You may have some pain specially while cough or moving around. Collection of blood in the wound is rare and if it occurs it needs to be removed and the implant replaced. Infection is rare and is treated with antibiotics. Really if the infection persists the breast implant is taken out and reinserted few months later. Poor healing may cause separation of the wound and rarely would require skin grafting. People who smoke, have diabetes, are obese or elderly have delayed healing. Future breast feeding is not possible with this type of procedure. Sensation around the nipple and areola could be altered. The scars may remain red, lumpy and sensitive for few weeks to months and they are permanent but fade with time. Darker skin people and smokers tend to have the worst scars. Breast asymmetry and irregularities can occur rarely. Fat necrosis can present as lumps with pain but settle without treatment in few months time.
Postoperative Advice, Instructions & Final Result
Day 1 – 4
You will fell tight around the breast and they will be supported by a sports bra. Sleep upright to reduce swelling, move around in home for basic needs but keep walking.
Day 5 – 14
Nondissolvable stitches will be removed. Gradually increase your activity but no strenuous activity.
Week 2 – 4
You could drive and return to work if breast remain comfortable. Start gentle exercise. The breast begin to appear natural.
Month 6 – 9
Scars begin to settle and fade gradually. You can assess the final result.